Poster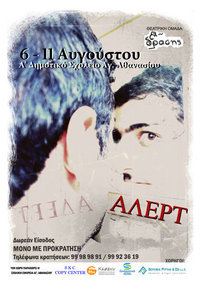 Synopsis
| alerT |

Theater Group Ek-Drasis
This production emerged from our search as far as concerns man in today's society. Considering that every day we experience and see around us various forms of madness we came to the work of the poet Romos Filiras, "My life in Dromokaiteion", in which he describes his own experiences in a psychiatric foundation.
With this stimulus text we are questioning whether the so-called "crazy" of the psychiatric hospitals are indeed "crazy" or they have reached some level of intellect that we, the supposedly "normal", cannot reach. So we wonder, "Who are the insane ones? Are they or we?", "What defines madness and what leads to it?". We may not reach any answers but with your help we will continue to be concerned and perhaps together we can start seeing things from another perspective.
We invite you to experience the performance with us. We welcome both negative and positive reviews, but what we care most about are your feelings and impressions of this interactive performance. As Romos Filiras says "What is the importance of today and tomorrow, when we can still live the dream and taste as always the sacred emotion of the moment?
August 2010,
Limassol
Credits
Adaptation and Direction: Elena Sokratous
Stage Design: Ioanna Neophytou
Music: Andreas Patsalidis
Assistant Directior: Odysseas Ioannou Konstantinou
Movement Director: Anna Genethliou
Light Design: Andreas Touloumis
Performers: Odysseas Ioannou Konstantinou, Savvina Georgiou, Andreas Patsalidis, Andreas Chrysanthou, Marios Konstantinou, Anna Genethliou, Andreas Touloumis, Mideia Xatziksenofontos, Tereza Stavridou, Charis Aristidou, Kiki Argyrou, Elena Sokratous